Buy ANYTHING in our Freeport ME store online! Click to Begin
Biggest Selection of Comic Book T-Shirts in Freeport, ME!
Dotcom Comics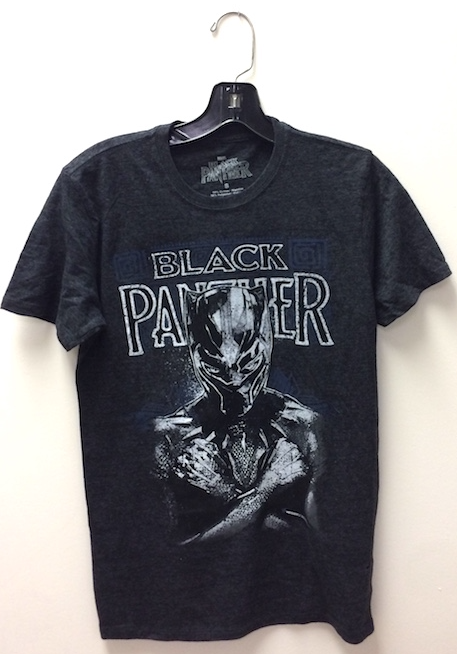 Black Panther T-shirt. Click to see more of our Marvel Comics T-shirts!
Looking for Comic Book T-Shirts in Freeport, ME?
Check out our huge selection!
DotCom Comics will be opening on May 4th, 2019.
We will feature dozens of different superhero T-shirts, in all sizes from kids' sizes to XXL.
Other apparel items will include caps, watches, shoes, ties, key chains and more.
You can also ask us to order anything we don't stock.
More About the Comic Book T-Shirts at DotCom Comics
At DotCom Comics, we live, eat and breathe superheroes. We scour the land in search of interesting and fun superhero stuff to offer you in-store or in our online comic book store.
Our goal is to represent every major comic book T-shirts character for you in our Freeport, ME location.
Our customer service team will be delighted to source comic book T-shirts for you if we don't stock exactly what you're looking for. Just ask!
We also have a HUGE selection of Star Wars T-shirts for kids and adults!
UNBEATABLE Prices on Superhero Shirts! Buy Two or More and SAVE!
Don't ask how we managed these prices. Let's just say, the Avengers AND Justice League are investigating.
Regular, pick-and-mix T-shirts (superhero or Star Wars)
First T-shirt $10

Any two for $18

Any three for $25!
Premium T-shirts
These are priced individually.
Please note that pick-and-mix shirts are first-come, first-served. They are all sorts of sizes. Sometimes we only receive one of each design, and often we can't guarantee your size will be available.
Premium T-shirts are usually available in a range of sizes.
What Else Does DotCom Comics Offer in the Store?
DotCom Comics is not just any local comic book store. We have a huge selection of:
superhero socks
vintage comics, including CGC-certified issues
vintage graphic novels, with many out-of-print and rare editions
vintage toys and memorabilia
modern comic books, trade paperbacks and graphic novels
statues
superhero watches
key chains
fridge magnets

retro candy!
Our eBay store, SellMyComicBooks, features thousands of single comic books, multi-book lots, full story arcs and runs, so if you don't see what you're looking for in the Freeport location, check out eBay too.
The bottom line is, if you don't see it, ASK! We might well have something in stock to satisfy your desires.
Comic Book T-Shirts for Sale! DotCom Comics, 136 Main Street, STE 1, Freeport, ME, 04032


We'd Love to Get Your Feedback!
Did you enjoy your visit to our store? Please take a moment to write a review of DotCom Comics and Collectibles!