Buy ANYTHING in our Freeport ME store online! Click to Begin
DotCom Comics and Collectibles: Your Friendly Local Comic Book Store in Freeport, Maine!

Black Friday, Small Business Saturday Deals November 26th-28th 2021!
Come into DotCom Comics and Collectibles this weekend and you're going to get a great deal!
Here are our specials for the upcoming shopping weekend:
10 percent off everything store-wide;
$5 graphic novels blowout
50 percent off T-shirts!
Loads of fresh Dollar bins going out
Offers don't "stack" with each other (so you get 50 percent off T-shirts but not a further 10 percent off after that).
See you this weekend!
Store opening hours:

Closed Mon
Tue 12-6
Wed 10-7

Thu 12-6
Fri 10-7
Sat 10-7
Sun 10-5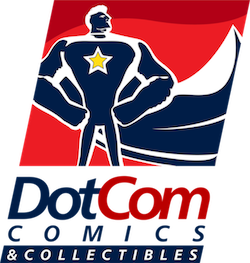 There's no local comic book store in Freeport, ME?
There is now! Welcome to the greatest geek destination in all  of Maine!
Looking for things to do in Freeport, ME?
If you're visiting Freeport or the surrounding area, then you'll definitely want to come on down.
Visit our shrine to Incredible Hulk collectibles.

Treat yourself to a key issue from our 100+ wall books.
While you're here, browse through our fantastic selection of 10,000+ vintage comic books, catch up on all the new comic book releases, trade paperbacks and graphic novels, superhero and sci-fi gifts, T-shirts and new and vintage action figures.
We have Marvel Legends, Star Wars, Transformers, Power Rangers, Star Trek, GI Joe, GoBots and so much more.
History of the DotCom Comics Comic Book Store
DotCom started off as Sell My Comic Books, an eBay trading partnership working out of Sean Goodrich's basement. We soon realized that we needed help -- there were more comics than hours to sell them in.
So in 2017, we opened an office, hired staff and geared up to go bigger and better.
By mid-2018, we had outgrown our office, hired more people and were basically drowning in comic books without enough space. So we started looking around for a bigger office.
We found a space in Freeport town center, which had office space to continue our eBay trading but also a retail footprint.

The Exterior of DotCom Comics and Collectibes, 136 Main Street, Freeport, ME, 04032. Come on down! Mon-Sat 10am to 8pm, Sunday 10am to 5pm
Some people might consider it a big step to open a store, but we thought, "Why not?" and basically started living the dream of every comic book geek -- opening our own local comic book store in Freeport, ME!
During our research, we talked to Dan Bailey, the owner of Zimmie's Comics, located in Lewiston, ME. We offered him the role of manager of the new store, and bought out Zimmie's (it closed on 31 March, 2019).
Dan brought years of experience and fantastic customer service to the team.
What does DotCom Comics and Collectibles offer in the store?

We have always been Maine's #1 vintage comic book store. So our store will have the best selection of vintage comics in Maine.
We regularly will feature mega-key issues on our wall: if you're used to seeing books like New Mutants #1 or X-Force #2 on the wall, then you're in for a treat!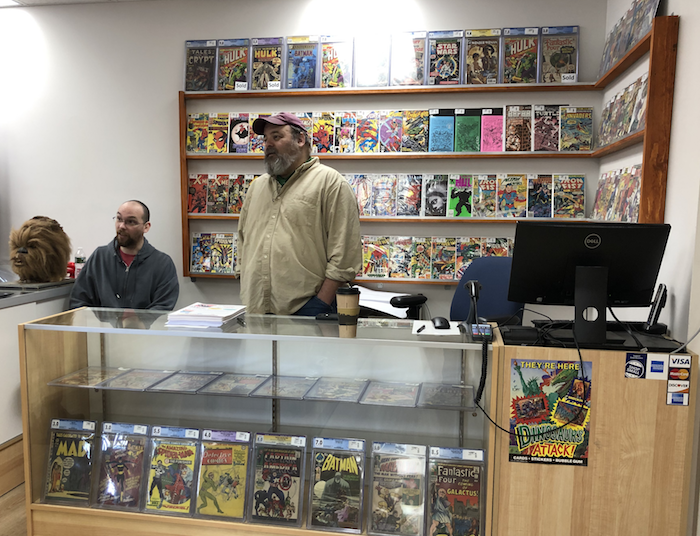 The wall books on display at DotCom Comics and Collectibles
So far this year, we have sold multiple copies of:

Avengers #1
Avengers #4
Amazing Fantasy #15
Journey into Mystery #83
X-Men #1
X-Men #4
Incredible Hulk #181
Giant-Size X-Men #1
Fantastic Four #1
Fantastic Four #48
Fantastic Four #52
Incredible Hulk #1
Amazing Spider-Man #14
Batman #181
Batman #251
Detective Comics #359
Batman Adventures #12
New Mutants #98
Amazing Spider-Man #300
Amazing Spider-Man #361
We also offer a huge selection of (new and vintage) trade paperbacks and graphic novels, plus new comic books from the major publishers.
Don't see what you want in stock?
Contact us with your wants list.
Chances are we'll have it in our back issue stock of 250,000 comic books, graphic novels and trade paperbacks -- and if we don't, then we will find it for you!
Discounts on New Comic Books!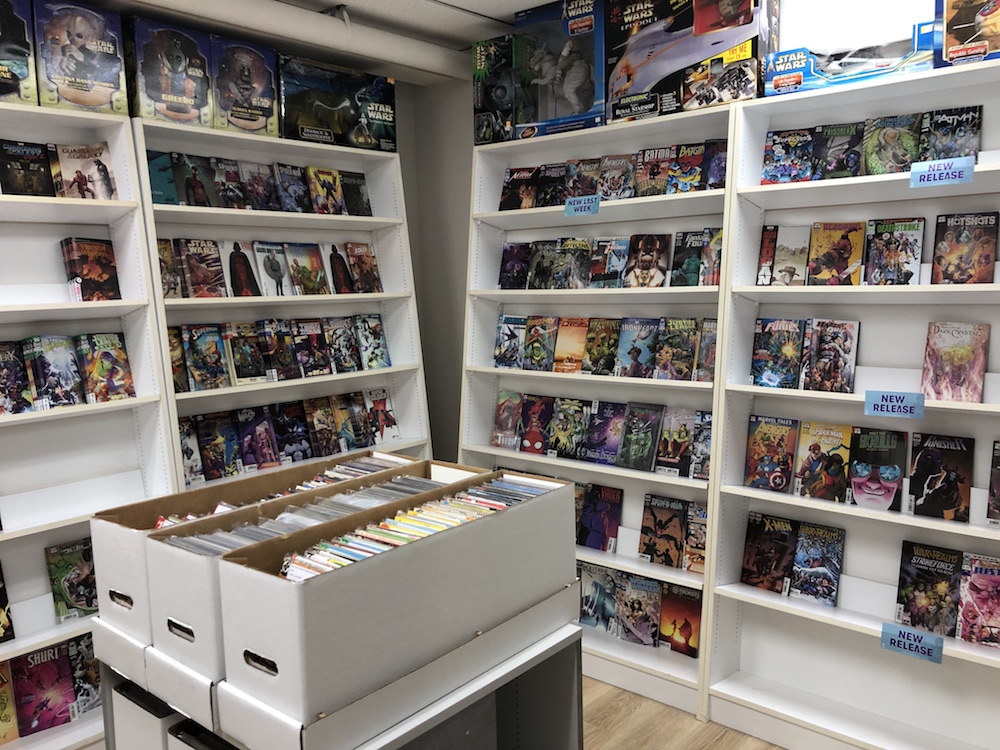 The new issue shelf took some serious hurting during the grand opening of DotCom Comics and Collectibles! We can offer you a 10 percent discount against the cover price of new issues when you create a pull list. Get in touch today
If you're looking for a discount on pull list books, then look no further!
We offer a 10 percent discount on the cover price of new issues when you create a pull list. You'll never miss another copy of your favorite comic books!
Write to Dan with your requests and we will get in touch.

Zimmie's former customers are able to ask for comic books to be mailed to them if they are unable to collect them from the store.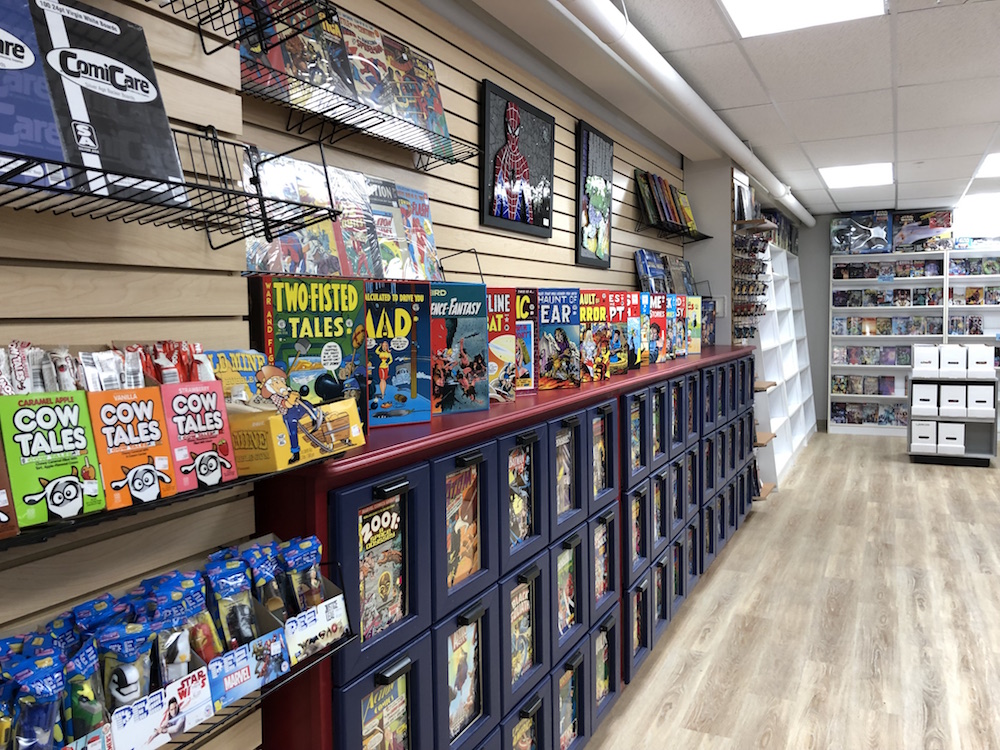 Just some of the goodies on offer at DotCom Comics and Collectibes, 136 Main Street, Freeport, ME, 04032
Vintage Collectibles in Freeport, ME
The most unusual offering in the comic book store is our selection of vintage collectibles.
From a 1940s Captain America pin badge, to a 1970s Lou Ferrigno memorabilia collection and a 1980 Incredible Hulk beach towel, these unique, one-of-a-kind items can't be found anywhere else.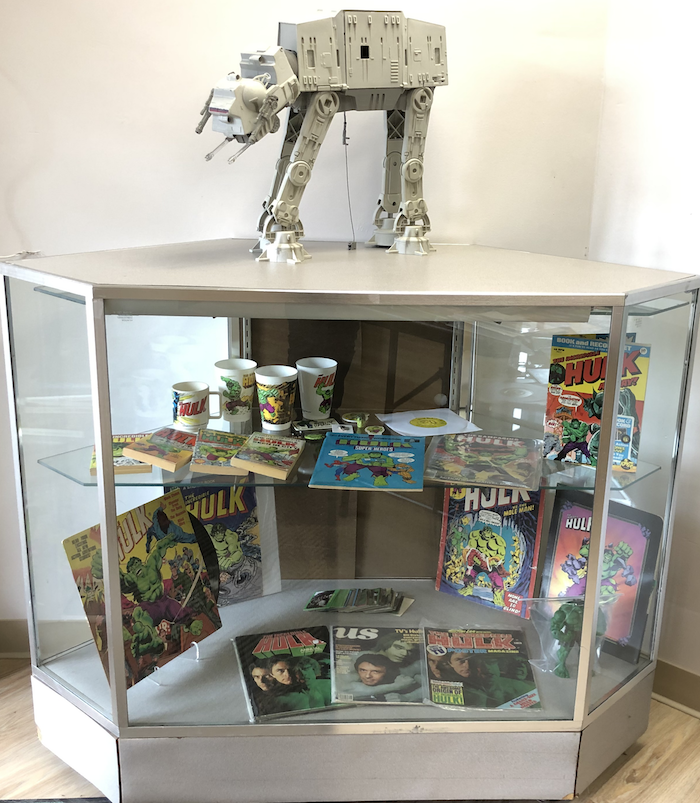 The shrine to vintage Incredible Hulk collectibles at DotCom Comics, guarded by our in-store AT-AT security!
We have a huge stock of vintage Star Wars collectibles, including toys, vehicles, action figures and Star Wars comics.
DotCom Comics also offers statues, toys, key chains, posters, superhero comic book T-shirts, watches, and vintage candy -- so you can truly take a trip down memory lane!

We'd Love to Get Your Feedback!
Did you enjoy your visit to our store? Please take a moment to write a review of DotCom Comics and Collectibles!